Season 5 is incoming, hunties! Are you excited? I can barely contain my tuck!
Before the insanity begins, though, let's take a look at the incoming queens, and I'll give you my opinion on them. Take note, however, that for these queens, all I know about them are their "Meet the Queen" Interviews, the hints from the Season V trailer, and whatever I can find about them on YouTube. I'm sure my opinions will change as time goes on, but since when has a lack of information stopped anyone from forming an opinion?
ALASKA (THUNDERFUCK)
Ditching her last name for the sake of Mainstream Media, Alaska comes to us from Pittsburgh, as Sharon Needles' other half.  On one hand, she's definitely quirky and fun, erring a bit more on the side of camp than Sharon, but I already love her. On the other hand, she is in Sharon's shadow. Comparisons will come, no matter how hard you want them not to, and I just hope people can see the correct differences and similarities between the lovers.
EXPECTED PLACEMENT: Top 5
I love her, and I want more than anything for her to get to the end, but her relationship with Sharon Needles will, I think, ultimately crush her sooner than she deserves. 
ALYSSA EDWARDS
Alyssa is Shangela's drag mother, and a fellow Texas girl. She also won Miss Gay America, but lost it due to some rule violation or something, but she's a pageant girl. I generally don't like pageant girls, cause they're such sticklers for the rules, but Alyssa's "Meet The Queen" is so painful. It's so prepared and strained and ugh. Also, she got bitch face.
PLACEMENT: Top 12 (3rd to go)
In the past few seasons, Ru has kind of cracked down on personality. After Rebecca got to the end, and Tyra won, she started to weigh Charisma a bit heavier than before, which drove out the unmemorable queens, and unless she pulls some Phi Phi level of crazy entitlement pretty early, I don't think she'll go too far.
COCO MONTRESE
Coco and Alyssa will bring the drama right out the gate, because when Alyssa lost her crown, guess who got it? I do think that, even as a pageant queen and Janet Jackson impersonator, she doesn't seem to completely focus on the look, and she has enough personality where I give her a pass. I mean, hiring a pool boy for a hot tub? That's my kind of girl.
PLACEMENT: TOP 8
I fully expect Coco to follow in Alexis' shoes, but I think once Alyssa is gone, and regardless of when they actually go, I can just feel that Coco will outlast Alyssa, her shine will disappear and will go pretty quick.
DETOX (ICUNT)
I lurv Detox, another queen who had to go Cher and drop the last name, though I think she had been planning this anyway. She's funny, she's weird enough without being off-putting, and she can lipsync and sing/rap like no one's business. 
PLACEMENT: Winner
I think she's the one to beat. If you compare her to her BFF, Willam, who could have theoretically won the damn crown, Detox's ego is a bit smaller than Willam's, so while she's no Lashauwn Beyond quiet girl, I think she can talk the talk and walk the walk.
HONEY MAHOGANY
Honey can sing, which has lead many to compare her to the most recent all-around entertainer, Milan. I think that she's more like Sahara, the lady of the class. That is, until she pops off like in the season trailer. 
PLACEMENT: TOP 3
Honey has enough class and talent that I initially thought she would mimic Sahara's path and leave a little after the midway point, but after watching her videos, I think she can make it to the end. Her only crutch may be in the outfit department, but I guess we'll see about that.
IVY WINTERS
She eats fire, she walks in stilts, she makes insane dresses, she can do anything! I have not seen much of her personality yet, so I am going to guess that that will be her downfall, in that either she doesn't have much, which you get from her "Meet the Queen", or if the season trailer's clips of her snarkiness towards Roxxxy, or the fact that Honey was yelling her, are to be believed, she could have a nasty attitude.
PLACEMENT: TOP 7
Whether what her personality is, I get the gut feeling that she'll hide behind the worse queens for a while, but get weeded out soon after they're gone.
JADE JOLIE
Jade likes video games, so as a person, I like her already. She's also very fishy, but her performances on Youtube show that she's not relying on looks alone. She also seems very sweet, so I think she'll do well.
PLACEMENT: TOP 2
I think she'll make it to the end, losing to Detox in the finale. Although in my heart of hearts I want a top 3 of Detox, Alaska, and Jinkx, I think those queens are a bit too similar, and Jade is a close 4th so Ru will take her to the end.
JINKX MONSOON
Jinkx is hilarious, and wins points for naming herself after Edie Monsoon. She can also sing, which is a boon. Her affection for Broadway inspires some unwelcome comparisons to Milan, but I think she'll outshine that taint-mopping shadow.
POSITION: TOP 6
Jinkx is in a troubled position because she and Alaska reside in strange country, where last year's winner Sharon Needles calls home, but so does batshit insane Tammie Brown.  Whichever one of them skews more Tammie will be the first to go, and right now I think Jinkx is teetering in that direction.
LINEYSHA SPARX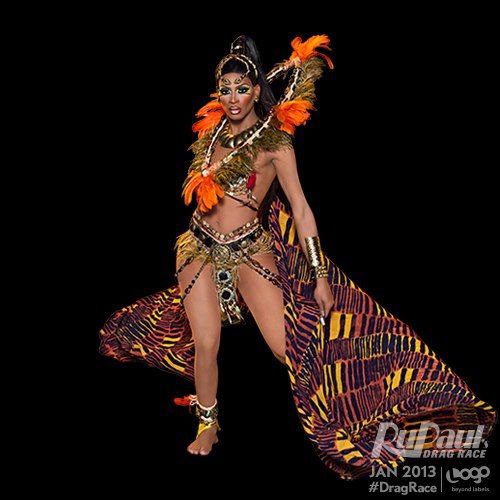 I used to have an affinity for the Latina queens. I loved Nina Flowers, adored Jessica Wild, and was enamored with Yara Sofia. Then Alexis Mateo whined up the place, and Kenya Michaels and Madame LaQueer were just blargh. Lineysha seems cute, but she has her work cut out for her in making Puerto Rico a Drag Race force once again.
PLACEMENT: Top 9

Lineysha seems to be a very pretty and creative queen, but if her accent level is any indication, she'll hit a wall when it comes to the Snatch Game, and will fall out from it.
MONICA BEVERLY HILLZ
Kenya Michaels and Dida Ritz had a baby and named her Monica Beverly Hillz (wid a Z). Honestly, I do not get strong vibes of anything from Monica. I feel bad, because I'm sure she's gifted and nice and all, but I do not think she's memorable at all.
PLACEMENT: 11th (4th to go)
There are a lot of strong personalities this season, and the boring queens will get the axe early on. Unless Monica is much more brash than she seems, she'll be gone soon.
PENNY TRATION
Penny Tration is the seasons big girl, and according to what I've read about her life outside of Drag Race, she's a force to be reckoned with in the drag scene.
PLACEMENT: Top 13 (2nd to go)

Like her fellow Ohio Queen, India Ferrah, I don't think her skills will translate well to the grind that is Drag Race. Besides, I get self-depricating humor, but in the Word Association video, when asked "winner" every girl said "Me!" Except Penny. Girl, making fun of yourself is fine, but you need some confidence!
ROXXXY ANDREWS
Normally, I am not a fan of Pageant Queens. Alexis Mateo? Blah. Victoria Parker? Yawn. Roxxxy Andrews, however, has me intrigued. I am also not a body queen fan, but goddamn, look at that photo! Dat Ass! Roxxxy's energy seems to overcome her pageant roots and cumbersome name, making her extremely magnetic.
PLACEMENT: Top 4
Ru will want a Pageant queen to go far, and Roxxxy makes at least 3 (if Penny is a Pageant queen, then 4), and of all of them, I think Roxxxy has the personality to last. Even so, Pageant is near-synonymous with Traditional, so the more outside-the-box queens will edge her out of the competition.
SERENA CHA CHA
Serena Cha Cha seems cute and fun, but in her Meet the Queen, she talks about Artists more than Drag, and being so young, I don't think her head is totally in the game right now.
PLACEMENT: Top 14 (1st to go)
I am all for encouraging new queens, but she is too young to make it far. I think she'll be crushed by her seasoned competitors early on.
VIVIENNE PINAY
Vivienne is very pretty, and I have an affinity for the Asian queens, but Vivienne seems somewhat subdued, especially when she's bound to be compared to Jujubee and Manila Luzon. She's pretty, though, and sometimes pretty can pay the rent.
PLACEMENT: Top 10 (5th to go)
Like Monica before her, I think Vivienne will be too quiet and not stand out enough and will get kicked out early on. It's a shame that she's so pretty, because I do not see her having a strong personality to back it up.
Well, there you have it. My thoughts on the contestants. Now, the first episode is available on Facebook, so I'll be giving my brand new Power Rankings as soon as I can.
In the meantime, what do you think? Who are your picks to win?